Community Supported Agriculture (CSA) is a way to connect people and the farmers who grow their food. Each makes a commitment to the other. With your farm share, you purchase a season's worth of produce in advance. We, in turn, commit to giving  you the best of the diversity of what we can grow each week.
We have several types of CSA Shares, so that you can choose what works best for you and your family:
Vegetable Shares:
Each week, starting in mid-May, you will receive a box filled with freshly harvested produce from our fields. The contents vary from week to week as the seasons change. In May and June, strawberries and greens are the all-stars of the boxes. Then cucumbers, spring peas and tender summer squash take the lead. Tomatoes take the pride of place in July. August is eggplant, peppers and melons. And fall brings a return to nutritious greens and winter squash.
Each box has 8 or more different types of produce so along with the above vegetables, we include one or more staples: onions, potatoes, carrots, lettuce. Honey from our hives and sorghum also make their appearances through out the season. For a more complete picture of what goes in each box, check out our last years weekly harvest. The shares are designed to feed two dedicated adult vegetable eaters or a family of four.
Pick Up Times
Pick up can be selected for Saturdays at the North Asheville Tailgate at UNC Asheville, 8 am – 12 pm; or Wednesdays at the River Arts District Farmers' Market off of Clingman Ave next to All Souls Pizza, 2 pm – 6 pm.
Please let us know your preference, as you will be asked to stick with the same pick up spot throughout the season.
Regular Vegetable Shares are $550 for 23 weeks. A $200 deposit is due upon sign-up. The balance will be due by April 1st. Payment plans are available upon request.

$200.00Add to cart
$550.00Add to cart
---
Extended Vegetable Shares:
Receive a full 28 weeks of vegetables (mid-May to just before Thanksgiving). The last five weeks will have bigger boxes. Price is $675 for 28 weeks.

$675.00Add to cart
---
Greens Share: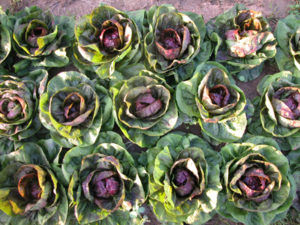 Sign up to add an extra bunch of greens in your box for approximately 20 weeks! Price is $45.

$45.00Add to cart
---
Add a CSA Flower Share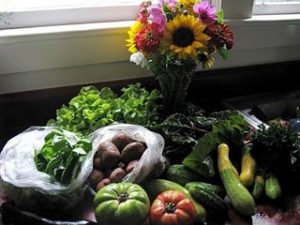 To bring 20 weeks of vibrant, organically-grown beauty into your home each week.

$175.00Add to cart
---
Market Shares
We also offer Market CSA Shares for those folks looking for a little more choice. The CSA market share is similar to a regular CSA share in that you pay into the farm at the beginning of the season and commit to us and yourself that you'll get produce from Full Sun Farm.
It is different in that you get to use your payment as credit at our farm stands at the Wednesday and Saturday markets. This allows you to CHOOSE exactly when, what and how much you want! With the CSA market share, you are a part of the farm, get our wonderful vegetables and flowers but can be more exacting in what you receive. The season also runs longer, from the beginning of April when the North Asheville Tailgate Market opens until the second Saturday in December, a full 36 weeks!.
The CSA market shares are in the amount of $300, $400 or $500 for the season. The $300 share receives an additional 5% credit for a total of $315, the $400 share an addtional 7% for $428 and the $500 share an additional 10% for $550.
We will keep track of your credit and periodically, and upon request, update you on your balance. Credit left over at the end of the season does not roll over to the next season and remains with the farm.
The only drawbacks to this system, as we see it, are that, in general, the Regular CSA gets priority on our vegetables and fruit, and that our best selection of items is at the beginning of market each day, not the end. The markets are first come, first serve, so you'll want to arrive early for things like blueberries, early squash and tomatoes etc.

$300.00Add to cart
$400.00Add to cart
$500.00Add to cart
Working CSA memberships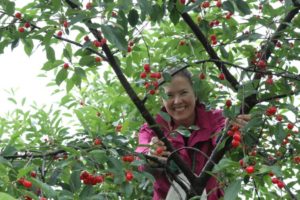 For those of you who want to really get your hands dirty, connect with your food and save a little money, we offer a working share.
The work can include harvesting, weeding, planting, cleaning vegetables, making flower bouquets, trellising tomatoes, mulching, sowing seeds in the greenhouse, picking cherries! What ever work is happening on the farm, you'll be asked to help. The work commitments is 25 hours and you can split that up any way that works for you. Click here to learn more! 
Meat and Egg Shares
We have partnered with our neighbors at Reeves Home Place Farm to bring you farm fresh eggs and a selection of meats as an add-on to your vegetable share. In 2014 Reeves Home Place Farm partnered with Troy & Sons Whiskey to form Whiskey Pigs Meats. They feed their animals the finest ingredients, including Troy & Sons Whiskey Mash. They raise Black Angus cattle, Cornish X chickens, Double Breasted Bronze Turkeys and American Mule foot pigs. Their animals are pasture raised and vegetarian fed. They are not given any extra growth hormones and are given no antibiotics. If you'd like to sign up for a meat or egg share, without a Full Sun Farm CSA share, please contact Reeves Home Place Farm directly.
Pick up of meat and eggs shares will be every other week, and are available as an add-on to your vegetable share, starting with the first week of our CSA and ending with the last week. That will be 12 boxes. Here is what you might get in a typical box:
Eggs – $48
1 dozen every other week

$48.00Add to cart
Mama Box – $390
5lb every other week
1lb Sausage
1lb Groundbeef
1 lb t-bone
2 lbs of chicken

$390.00Read more
Papa Box – $780
10 lbs every other week
2lb of Boston Butts
1lb groundbeef
1lb cubesteak
1lb sirloin Steak
1lb sausage

$780.00Add to cart
Have questions? Click Here to Contact Us!