The Perfect Flowers for the DIY Bride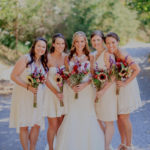 We love having bridal parties come pick their own fresh flowers from the farm. Ordering from a florist usually means that your flowers have already been shipped for days before being arranged for your wedding. But picking your own ensures you are getting the very freshest flowers, ones that will look amazing all the way through your wedding, and are exactly to your taste. Plus, your wedding flowers will always be in season on your anniversary!
Bring the bridal party and a picnic and enjoy a few moments of precious tranquility in the midst of your preparations. Or bring along your photographer for some truly unique wedding photos. We're happy to accommodate in any way we can.
At Full Sun Farm we grow a huge variety of flowers using organic methods. Each week we bring a selection of beautiful fresh-cut flowers to market for sale to our customers.
Flower CSA shares are also available for advance purchase. For the flower share you will receive one generous bouquet per week for 20 weeks. The share starts around mid-May with pick up on Wednesday at the River Arts District Farmers Market or on Saturday at the North Asheville Tailgate Market.
Flower CSA Share
$175.00Add to cart
.