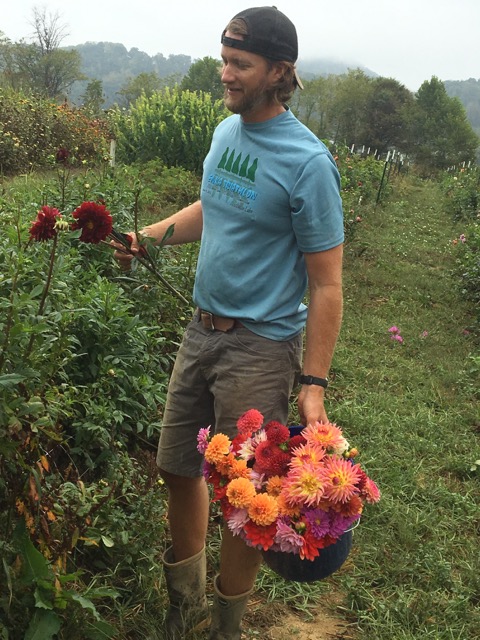 The Strawberries are in the ground! The over-wintering flowers are in the ground. We have garlic and onions to go, but not for another couple of weeks will we be getting those int he ground. We have some more lettuces to plant, mostly in the tunnels, but we're tempted to plant some outside since it's so warm still. We have to remind ourselves that it is, in fact, almost October and it's just gotta get colder soon. Despite having received almost no rain in the past 4 weeks all the cover crop has started to come up. This is a huge relief. The ground is SO dry and since we use drip irrigation, we have no way to broadcast water to get cover crop seed to germinate. Thankfully there was enough moisture in the soil to get the cover crop going. But will no rain in the forecast for the next 10 days and virtually no rain falling Monday or Tuesday here at the farm, we're still concerned.
Anyway, there's still lots to keep us occupied. We're starting to take out the tomato plants from the tunnels, and getting those beds ready for some lettuces and greens for our November and December markets and to help feed us over the winter. There's plenty of drip lines to roll up for winter storage. We have a barn full of onions that need to be bagged up and sorted. We'll be cutting our sorghum, probably next week and making molasses the week after. And there's still some weeds to kill, though the farm has never looked better. Everything seems so under control, mostly thanks to the tireless efforts of our crew.
Don't forgot about the FARM PARTY on October 2nd from 3-6ish. It's a potluck. We'll provide drinks and burgers and hotdogs (meat & veg). Please let us know if you can make it (unless you're already told us)
Radicchio. There's Radicchio in your box this week, SugarLoaf is the variety. Radicchio is a bitter green and meant to be used sparingly. Chop up a little bit at a time to add to salads. It will last for weeks in a plastic bag in the veg drawer of your frig.
Just FYI, the last Wednesday box for the regular CSA season is October 12th. We still have some spots in our extended CSA season. Just shoot us an email and we can give the details.
Please return your CSA box next week. These boxes are waxed and are not recyclable, but we reuse them. So PLEASE remember to bring them back next week.
Ideas for Cooking

(We want to thank long time CSA member John Loyd for providing ideas and inspiration in this section!!!

"You are what you eat. For example, if you eat garlic you're apt to be a hermit." Franklin P. Jones

CARROTS – Steaming and boiling does little to bring out a nice carrot taste.  Braising, cooking them in a little water and then sautéing them, works the best for flavor.

This Week's Recipes (Click on Link):